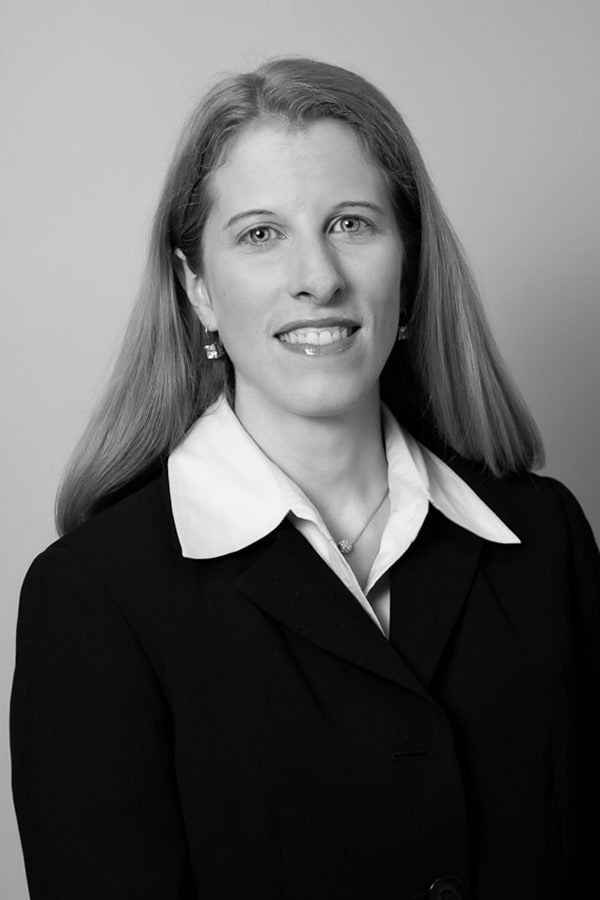 Megan J. Redmond
Shareholder
Location :

Kansas City

Download Vcard :
Professional Profile
Megan Redmond is an original member of Erise IP and a first-chair intellectual property litigator.
Over two decades in practice, Megan has achieved results for clients in multiple technology areas, including toys, GPS technology, consumer electronics, digital rights management, video games and systems, e-commerce, and multiple aspects of data network technology and testing.
Clients benefit from her pragmatic litigation philosophy, which focuses on developing strategies to terminate cases quickly, while, at the same time, preparing each case for trial – should that need arise.
Before attending law school, Megan worked at the University of East Anglia in Norwich, England, where her research on pig eyes and cellular regeneration was part of a study aimed at improving cataract surgeries in underdeveloped nations. She applies this work in the laboratory to help find novel solutions to highly technical problems.
Among her recent matters:
CG Technology Development, LLC v. FanDuel, Inc.: Megan defended FanDuel, a leading gaming company, against allegations it alleged 12 patents. First, Megan and her team reduced the case to one asserted patent; later, the U.S. District Court for the District of Delaware invalidated the final patent. The District Court's decision was affirmed by the Federal Circuit, ending the litigation altogether.
Sphero v. Spin Master: Megan defeated a motion for preliminary injunction in a patent infringement case against Spin Master, a global toy company, brought by a plaintiff who sought to prevent the sale of a Star Wars BB-8 toy during the Christmas season.
Winters v. PACCAR: Megan represented PACCAR, a Fortune 500 truck manufacturer, in a trademark infringement dispute. Megan overcame the plaintiff's asserted IP claims against PACCAR and countersued to enforce PACCAR's own IP counterclaims. The case ended with a seven-figure settlement in PACCAR's favor.
Megan's zealous protection of her clients' property rights extends beyond the realm of IP to real property. She has significant experience in real estate litigation, including land, title and nuisance matters.
In one notable case, Megan represented a municipality that sought to stop a publicly traded company from transporting rocks from a quarry down a residential street. The jury awarded Megan's client verdicts for $1.9 million in compensatory damages and $10 million in punitive damages on the claims of negligent repair and public nuisance.
Megan frequently speaks on litigation matters; recent presentations include the Association of Intellectual Property Firms and the Kansas Women Attorneys Association, among others. She is an active volunteer with Operation Breakthrough, a non-profit that supports children in poverty and their families.