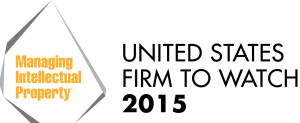 Erise IP is honored to have received Managing Intellectual Property's 2015 "IP Firm To Watch" award. The annual Managing Intellectual Property North America Awards recognize outstanding work by firms and individuals in the United States and Canada. The "IP Firm to Watch" award is an editor's choice award and Erise IP was the only firm to be recognized with this esteemed distinction.
Erise IP was selected for the honor due to the significant list of accomplishments the firm has achieved over the past few years. In just the last three years, the boutique firm has already caught the attention of numerous industry media and organizations for its recent victories in support of nationally recognized clients including Garmin International, Ford Motor Company, Sony, and Ubisoft. The firm's recent victories have occurred in patent litigation matters in district courts across the country, before the International Trade Commission, and in AIA post-grant proceedings before the Patent Trial and Appeal Board (with Erise IP's lawyers having handled the first ever IPR proceeding as well as over 30 other such proceedings to date).
Shareholders Jason Mudd and Abran Kean accepted the award on behalf of the firm during an awards ceremony on March 18 at the Four Seasons hotel in Washington, D.C. Besides being recognized at the awards ceremony, the firm will also be highlighted within a special section of the May 2015 edition of Managing Intellectual Property.